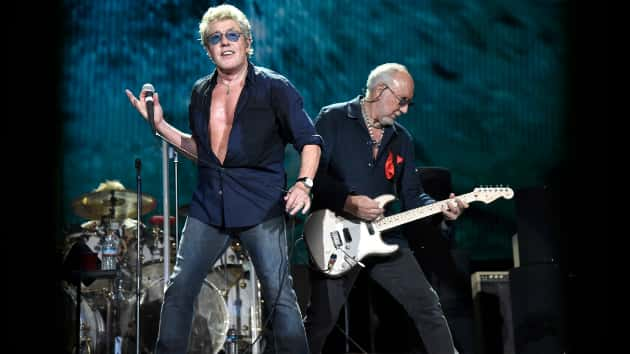 Kevin Mazur/Getty Images
Kevin Mazur/Getty ImagesAs announced earlier this month, The Who is working on a new studio album that's expected to be released later this year, sometime after the band's Moving On! orchestral tour kicks off. Guitarist and songwriter Pete Townshend is now sharing some new information about the album on the group's official website.
In his first post, Townshend reveals respected British guitarist Gordon Giltrap plays on one of the tracks on the record. Pete describes the tune as "a Spanish-style song…about a fabulous girl from the past," and includes an audio clip of the part Gordon played.
Townshend reports that Giltrap recently went through a battle with cancer, but is healthy now. He adds that Gordon "is a beacon of light, and of course a brilliant player," while noting, "We each claim to have influenced each other over the years."
In a second post, Pete reveals that he's been talking with famous British pop artist Peter Blake about designing the cover of The Who's next album. Blake created the classic cover of The Beatles' Sgt. Pepper's Lonely Hearts Club Band, as well as that of The Who's 1981 album Face Dances.
Townshend's post features a YouTube video showing him driving to Blake's studio in the Chiswick district of London on Wednesday. Pete notes in the clip that he has "no idea what we're gonna call the album [or] what kind of artwork we're gonna use."
On that topic, Pete reports in the note that "a friend from Texas" has suggested a simple title for the album that he likes: WHO.
"Might take us right back to the beginning, who knows," he comments.
Copyright © 2019, ABC Radio. All rights reserved.