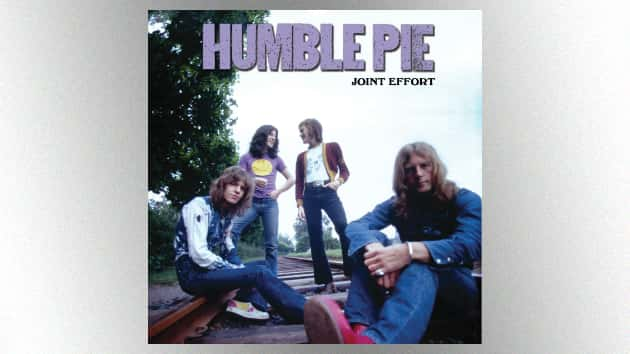 Cleopatra Records
Cleopatra RecordsA previously unreleased Humble Pie album called Joint Effort, which was shelved by the U.K. blues rockers' label when it was first submitted, has finally been released. The album, which features a mix of covers and originals, was recorded in 1974 and '75 at frontman Steve Marriott's home studio, Clear Sounds, in Essex, U.K.
The 10-track collection includes renditions of James Brown's "Think," The Beatles' "Rain" and soul great Betty Wright's "Let Me Be Your Lovemaker." The Humble Pie lineup that recorded the album featured three founding members — singer/guitarist Marriott, bassist Greg Ridley and drummer Jerry Shirley — as well as Dave "Clem" Clempson, who replaced original lead guitarist Peter Frampton in 1971.
At the time Joint Effort was made, Marriott had just returned to the fold after walking out on the band and unsuccessfully trying out for The Rolling Stones, who were in the market for a new guitar player following the departure of Mick Taylor.
Before forming Humble Pie in 1969, Steve had been the frontman of The Small Faces.
Joint Effort is available on CD, digitally, and as a limited-edition colored-vinyl LP pressed on either white or purple vinyl. The CD and vinyl versions feature rare photos and new liner notes.
Here's the album's full track list:
"Think"
"This Ol' World"
"Midnight of My Life"
"Let Me Be Your Lovemaker"
"Rain"
"Snakes & Ladders"
"Good Thing"
"A Minute of Your Time"
"Charlene"
"Think 2"
Copyright © 2019, ABC Radio. All rights reserved.