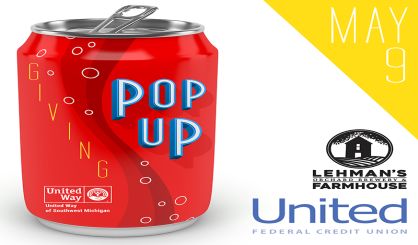 Coming up next month will be the third Pop Up Giving event to be held by the United Way of Southwest Michigan. The United Way's Jennifer Tomshack tells WSJM News Pop Up Giving events allow attendees the chance to vote for one of three non-profits who will make a presentation on planned projects.
"Each time we do it, it's three local non-profits, and we switch up the theme each time," Tomshack said. "For this one, there will be three local health-related non-profits. We haven't yet chosen which ones they'll be, but those will be announced shortly."
Tomshack says the biggest vote getter receives the largest portion of the money raised by the Pop Up Giving Event, while the runners up each get $250. The last time, Kinexus was the winner, receiving $2,400. The next Pop Up Giving event will be May 9 at Lehman's Orchard Brewery and Farmhouse in Buchanan. You can get tickets at UWSM.org.