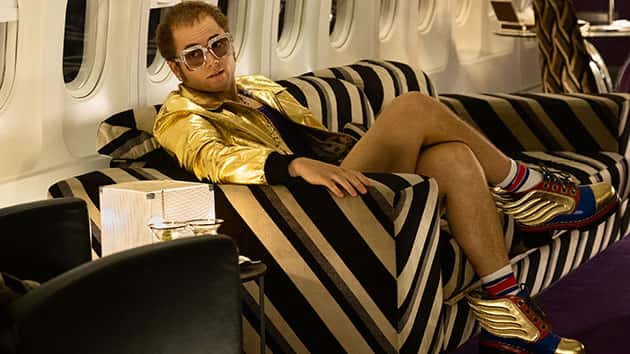 Taron Egerton as Elton John in "Rocketman" from Paramount Pictures
Taron Egerton as Elton John in "Rocketman" from Paramount PicturesElton John hasn't seen his biopic Rocketman yet — that will happen Thursday at the Cannes Film Festival — but Elton's husband, David Furnish, has, because he's one of the movie's producers. And he says that the movie portrays a side of his husband that he's never seen…and at times, it's not pretty.
Elton and David have been together for 26 years, but Rocketman details Elton's childhood and rise to stardom, long before the two met. David tells Variety, "Elton John is somebody that I think I know incredibly well, but then also it's like watching a film about somebody you don't know at all. The Elton in all that madness is not the Elton I know."
Furnish continues, "At times, he's a bit of a monster and also, deeply unhappy. That's hard." He adds, "Many times as I watched the film, I wanted to go and give him a hug, like I could help him. I thought, 'God, you've been through a lot.'"
Furnish believes the movie's star, Taron Egerton, does a great job of portraying Elton, and John agrees. In fact, David reveals that Elton had a hard time telling himself and Taron apart.
Referring to one of the first photos released from Rocketman, which shows Taron as Elton, sitting on his private plane in the '70s, Furnish tells Variety, "He's on the sofa with the glasses and the hot pants. I sent it to Elton and Elton said, 'I don't remember taking that. When did I take that picture?' He thought it was him!"
Rocketman will arrive in theaters nationwide on May 31.
Copyright © 2019, ABC Radio. All rights reserved.