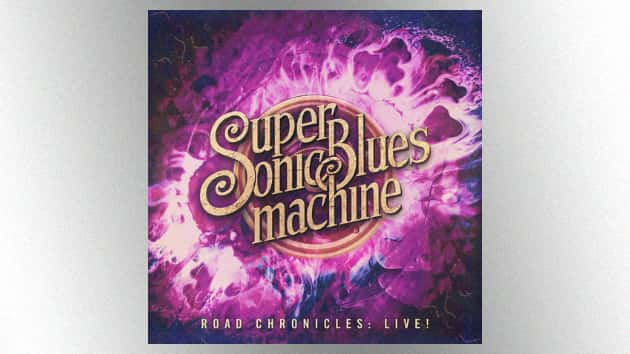 Provogue Records
Provogue Records
ZZ Top's Billy Gibbons lends his talents to six tracks on Road Chronicles: Live!, a new live album by the blues-rock act Supersonic Blues Machine that will be released on July 12.
The record includes performances from a July 2018 concert in Brugnera, Italy, that featured Gibbons as a special guest. Among the songs to which the Rock & Roll Hall of Famer contributes are renditions of the ZZ Top hit "La Grange"; the blues classics "Dust My Broom," "Running Whiskey," "Got My Mojo Working" and "Going Down"; and the Supersonic Blues Machine originals "Running Whiskey" and "Broken Heart."
The latter two songs, both of which were co-written by Gibbons, originally appeared on the band's respective studio albums, 2016's West of Flushing, South of Frisco and 2017's Californisoul.
Supersonic Blues Machine was formed a few years ago by Italian-born bassist/producer/songwriter Fabrizio Grossi and veteran touring drummer Kenny Aronoff after the two toured together in Goodfellas, a side project of Toto guitarist Steve Lukather. The group's studio albums have featured a variety of guest artists, including Lukather, Warren Haynes, and Gibbons, who accompanied Supersonic Blues Machine on its 2018 tour of Europe.
You can check out a lyrics video for the live version "Running Whiskey," featuring Gibbons on vocals and guitar, at the Mascot Label Group's official YouTube channel. The track is available now as a digital single and via streaming services. Pre-order Road Chronicles: Live! and you'll receive an instant free download of the song.
Here's the Road Chronicles: Live! track list:
"I Am Done Missing You"
"I Ain't Fallin' Again"
"Remedy"
"Can't Take It No More"
"Watchagonnado"
"Elevate"
"Bad Boys"
"Let It Be"
"La Grange"*
"Broken Heart"*
"Dust My Broom"*
"Running Whiskey"*
"Got My Mojo Working"*
"Going Down"*
Bonus tracks:
"L.O.V.E."+
"Hard Times"+
"The Stranger"++
* = features Billy Gibbons.
+ = available on digital version only.
++ = available on vinyl version only.
Copyright © 2019, ABC Radio. All rights reserved.