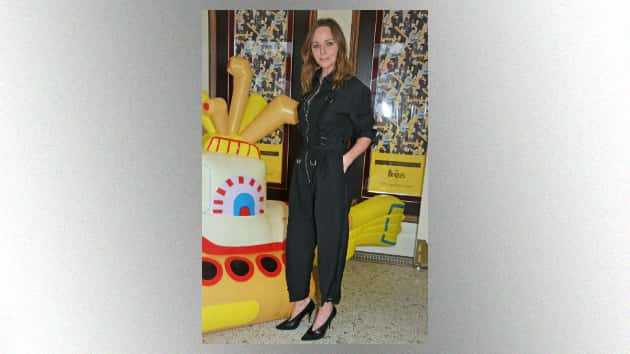 David M. Benett/Dave Benett/Getty Images for Stella McCartney
David M. Benett/Dave Benett/Getty Images for Stella McCartneyPaul McCartney's daughter Stella is a famous fashion designer, and for the first time ever, she's utilized imagery directly inspired by her dad's old band, The Beatles, for a full apparel line.
Stella's "All Together Now" clothing line, which was introduced Monday, features a variety of items for men, women and children that include images from or inspired by The Beatles' 1968 psychedelic animated film Yellow Submarine.
Stella's website explains that she got the idea for the collection after attending a screening of the remastered version of Yellow Submarine with friends and family members.
"It affected me in a way I just wasn't expecting," she says. "Especially this idea of connecting people and bringing people together — politically this message has never been more relevant. So, I came out and I was like 'I have to do something.'"
The "All Together Now" line features dozens of pieces, including coats, jackets, sweaters, button-down shirts, t-shirts, dresses, tote bags and more.
The items boast such imagery as cartoon versions of all four Beatles members, yellow submarines and characters like the Blue Meanies.
To promote the collection, a video has been produced featuring four young musicians who are drawn into Yellow Submarine's surreal animated world while wearing various pieces of apparel from the line. You can check out the clip at Stella McCartney's official YouTube channel.
Prices of the "All Together Now" items span from a $72 children's t-shirt to a $6,840 men's coat emblazoned with Beatles badges and buttons.
Copyright © 2019, ABC Radio. All rights reserved.