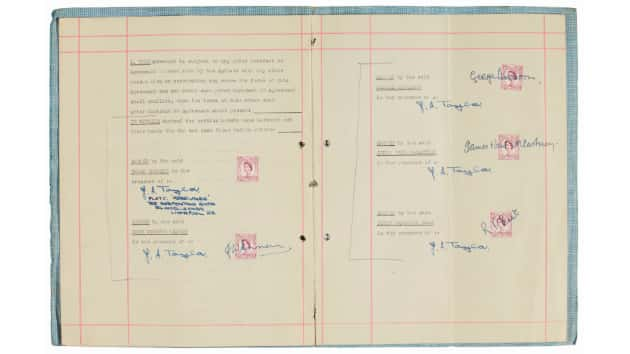 Courtesy of Sotheby's
Courtesy of Sotheby'sThe original management contract that The Beatles signed with Brian Epstein in January 1962 sold Tuesday for 275,000 pounds, or about $344,000, at an online-only auction hosted by Sotheby's in London.
The agreement, which was signed by John Lennon, Paul McCartney, George Harrison and original Beatles drummer Pete Best, gave Epstein the responsibility of finding gigs for the band, as well as handling the group's publicity and managing its schedule. The contract also tasked Brian with advising the band "on all matters concerning clothes, make-up and the presentation and construction of the [group's] acts."
The contract was signed less than three months after Brian first went to watch The Beatles perform at The Cavern Club in Liverpool. Epstein had been running his family's record shop in the city, but was so impressed with the group's performance and charisma that he decided offer them his services as manager.
Interestingly, Epstein never signed the contract himself, explaining in his biography that he wasn't completely confident that he'd do a good job managing the band, and "wanted to free the Beatles of their obligations if I felt they would be better off."
After Best was replaced by Ringo Starr, The Beatles signed a new contract with Epstein in October 1962. A copy of that document sold at a 2015 Sotheby's auction for more than $550,000.
Brian managed The Beatles until his death in 1967 from an overdose of sleeping pills.
The money raised from Tuesday's auction will benefit the Ernest Hecht Charitable Foundation, an organization founded by Epstein's publisher, Ernest Hecht, to help disadvantaged people and support arts and education programs.
Copyright © 2019, ABC Radio. All rights reserved.