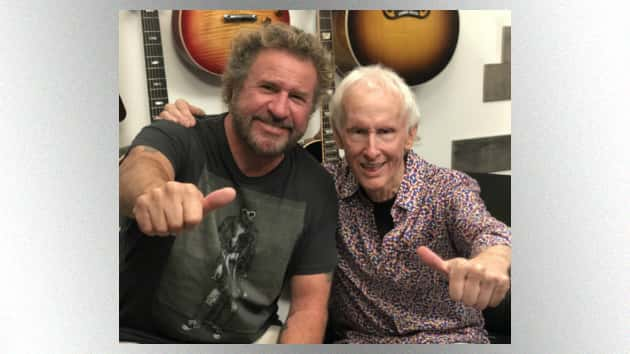 Courtesy of AXS TV
Courtesy of AXS TV
The Doors' Robby Krieger is among the guests featured on the latest episode of Sammy Hagar's AXS TV reality series, Rock & Roll Road Trip, which premieres this Sunday, July 14, at 8 p.m. ET/5 p.m. PT.
The show focuses on the star-studded America Salutes You: Guitar Legends II benefit concert, which was held this past December in Los Angeles. The event paid tribute to American veterans, firefighters and first responders, and raised funds for charities supporting their mental health and wellness.
Hagar and Krieger were among many famous musicians who took part in the concert, along with ZZ Top's Billy Gibbons, Stephen Stills, ex-Eagles guitarist Don Felder, Jane's Addiction guitarist Dave Navarro, and popular blues artist Joe Bonamassa, among others.
A preview trailer for the episode shows Hagar joining Krieger onstage for a rendition of the Doors classic "Roadhouse Blues," and also chatting with Robby about his old band's music.
In the clip, the Red Rocker tells Krieger he'd always wanted to meet him, and expresses his appreciation for The Doors as a band that was "talking about politics…the people in the street [and] the movements that were going on."
Robby responds by noting that late Doors frontman Jim Morrison used to tell him that when he wrote songs that he should try to be "a mirror of society…Don't try to preach what you think it should be, but just be a mirror."
The preview also includes a brief scene of Hagar talking with Bonamassa, who points out that he was in a band with Sammy's son when he was in his teens.
Copyright © 2019, ABC Radio. All rights reserved.