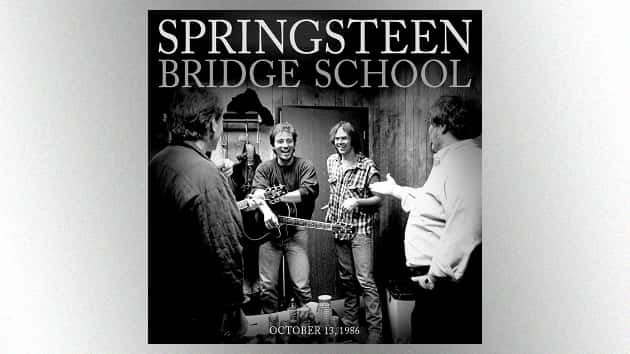 Neal Preston/Columbia Records
Neal Preston/Columbia RecordsThe latest installment of Bruce Springsteen's series of archival concert recordings documents The Boss' unplugged performance at Neil Young's first Bridge School Benefit Concert, which took place in October of 1986 at the Shoreline Amphitheatre in Mountain View, California.
The 10-song set, which featured Springsteen accompanied by The E Street Band's Nils Lofgren on guitar and backing vocals and Danny Federici on accordion, is now available for purchase at Live.BruceSpringsteen.net.
For the finale of the show, Bruce was joined by David Crosby, Stephen Stills, Graham Nash and Young for a rendition of his 1979 hit "Hungry Heart."
The show was Springsteen's first major appearance following the end of his world tour in support of Born in the U.S.A., and his first full acoustic performance in more than 10 years.
Among the other songs Bruce played: "Born in the U.S.A.," "Fire," "Dancing in the Dark," "Glory Days" and a cover of the Elvis Presley hit "Follow That Dream."
The Bridge School '86 album is available on CD and in multiple digital formats, including MP3, high-resolution 24-bit and DSD files.
Two dollars from each album — dedicated to Young's late manager Elliot Roberts — sold will go toward the Bridge School, which helps kids with severe speech and physical impairments. The school was co-founded by Neil's late ex-wife, Pegi Young.
Here's the full set list from Springsteen's 1986 performance at the Bridge School Benefit Concert:
"You Can Look (But You Better Not Touch)"
"Born in the U.S.A."
"Seeds"
"Darlington County"
"Mansion on the Hill"
"Fire"
"Dancing in the Dark"
"Glory Days"
"Follow That Dream"
"Hungry Heart"*
* = with Crosby, Stills, Nash and Young.
Copyright © 2019, ABC Radio. All rights reserved.