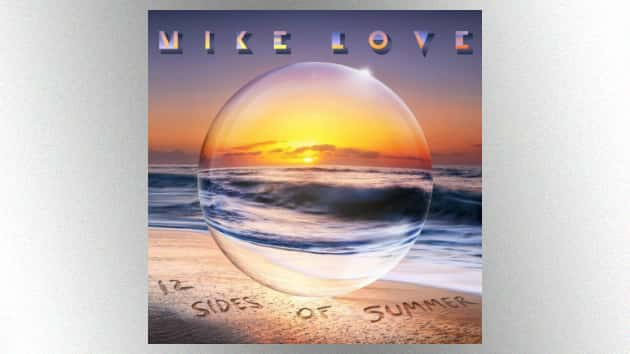 BMG
BMG
Beach Boys frontman Mike Love released a new solo album last month called 12 Sides of Summer. As the title suggests, the record features 12 tracks celebrating the year's hottest season, among them covers of some classic summer- and beach-themed tunes, as well as updated versions of four Beach Boys songs and one new Love-penned original, "California Beach."
The 78-year-old Rock & Roll Hall of Famer tells ABC Radio that making the album was "one of the most fun, relaxing times" he's had.
"[The album has got] energy to it, but it was relaxing in the sense that we weren't trying too hard," Love explains. "We're not trying to write every song on the album. We did a lot of covers."
Among the covers was a rendition of The Ramones' "Rockaway Beach."
"The Ramones were Beach Boy fans. They actually covered 'Surfin' Safari,'" Love notes. "So I say we're getting even with them, in a nice way, by covering 'Rockaway Beach.'"
Speaking of "Surfin' Safari," that's one of the Beach Boys tunes that Love rerecorded for 12 Sides of Summer, along with "Surfin'," "It's OK" and "Keepin' the Summer Alive."
Love says the album's co-producer, Sam Hollander, who's worked with contemporary artists including Panic! at the Disco and Fitz and the Tantrums, came up with the idea of doing re-imagined, updated versions of Beach Boys tunes, which Mike says "was great."
Another interesting cover on the album is a laid-back, Caribbean-flavored rendition of the George Harrison-penned Beatles classic, "Here Comes the Sun."
Love says Beach Boys musical director Scott Totten came up with the "beautiful" arrangement, adding, "I sang it with as much love and sincerity and reverence as I possibly could." (AUDIO IS ABC 1-ON-1)
Here's the full 12 Sides of Summer track list:
"California Beach"
"It's Ok" — featuring Hanson
"Surfin'"
"California Sun"
"Surfin' Safari"
"On and On and On"
"Here Comes the Sun"
"Girl from Ipanema"
"Over and Over and Over Again"
"Keepin' the Summer Alive"
"Summertime Blues"
"Rockaway Beach"
Copyright © 2019, ABC Radio. All rights reserved.