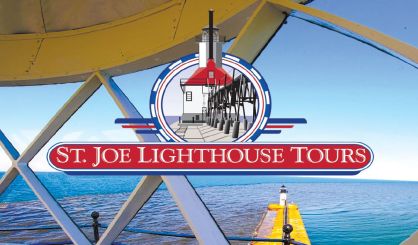 The tours are over for the year of the St. Joseph Lighthouses, with revenue approaching $20,000 for 2019. Kate Ulrey of the Heritage Museum and Cultural Center says there were 7,064 tho took the tour this summer and into the fall before they wrapped up last Thursday.
"3,350 visitors climbed to the top of the lighthouse," Ulrey told the St. Joseph City Commission on Monday. "(A) lighthouse sticker was available when you got to the top. Beth Mandarino is the one who designed that for us and gave us that great looking sticker."
Ulrey told commissioners with this being her first year on the job, one big surprise was that the Heritage Museum became an additional welcome center into the city, and they went through a lot of brochures. The most popular were for west Michigan lighthouses, the St. Joseph Today map of downtown, and the brochure for the Benton Harbor Arts District.
People toured the lighthouses from all over the country along with Brazil, Canada, France, Germany, and Portugal in 2019.
The lighthouse tours will resume in the spring, and the Heritage Museum will be giving the city of St. Joseph it's half of the revenue by December 1.