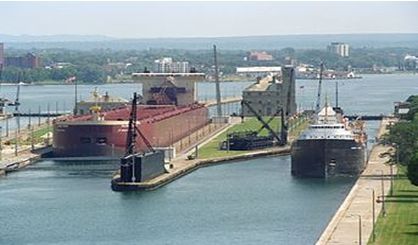 The Michigan Department of Transportation is working with the U.S. Army Corps of Engineers as an effort is underway to build a new Soo Lock. Congress this year approved more than $75 million for the initial construction and design of a lock to complement the Poe Lock. MDOT contract manager Ryan Mitchell, speaking on the latest MDOT "Talking Michigan Transportation" podcast, says it is important to have a second lock in case the Poe Lock fails.
"It is an economic and Homeland Security wonder, and we're proud to have it in Michigan, and the citizens of Michigan and the United States," Mitchell said. "MDOT is supporting the Corps in evaluating the project for suitability for an alternative delivery model."
Mitchell says the nation became complacent about the Soo Locks because they function so well. However, with the Poe Lock aging, the risk to shipping is becoming greater.
"A failure of the Soo Locks would be not just a Michigan problem, but an international problem."
Mitchell says 77% of the iron ore used by the U.S. steel industry is shipped through the Soo Locks. If the Poe Lock went down, he says the auto and steel industries would grind to a halt. President Trump has expressed support for the construction of a new lock. It's expected it would take around $1 billion. A construction contract could be awarded in the summer of 2020.