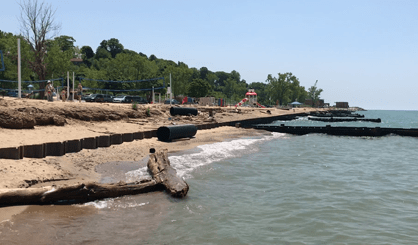 Near record-high water levels, massive storms, high waves are all combining to make big changes to the Lake Michigan shoreline in the past few years. New Buffalo Shoreline Alliance president Ted Grzywacz has been working to get the shoreline restored for five years. He tells "Michigan's Big Show" that while some progress has been made, he's overall still very frustrated.
"Bureaucracy has slowed us down immensely," says Grzywacz. "There are reports as early as 1961 that said the harbor was going to starve this area of sand. There was another study in 2009 that said you've got to get sand to the beaches, otherwise they'll continue to erode. We're sitting here today working on more studies to fix something, when we know what the solution is.
State Senator Kim LaSata says erosion has been a problem all over the state, but "New Buffalo has a unique problem because of the solid barriers that were constructed by the US Army Corps of Engineers. They used to replenish the sand for 20 years, but stopped because of costs, and they didn't have the funding."
LaSata says the governor has ordered the Department of Environment, Great Lakes, and Energy to expedite requests from property owners for shoreline protection systems, but no emergency has been declared either at the state or federal level.
Image is from Lions Park Beach in St. Joseph in June 2019 when a storm washed away large portions of the beach.