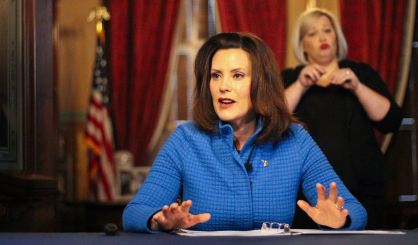 Governor Whitmer says Michigan has the fifth-highest number of COVID-19 cases in the country, and the numbers will continue to rise until the impact of the Stay Home, Stay Safe order begins to be felt in the coming weeks. She has now sent a request to President Trump for a major disaster declaration for the state.
"If granted in full, among other things, this will help us provide meals to families who need them," said Whitmer Thursday morning. "It would help us provide rental assistance and temporary housing to families. It would help provide counseling and therapy to our residents whose mental health is affected by COVID-19."
The governor adds it would also help the state's efforts to set up field hospitals or other facilities to treat those who are ill. Whitmer says the state is working to obtain needed supplies for healthcare workers, but will take donations of N95 masks, hospital gowns, hand sanitizer, and more.
"There are other ways that people can help," the governor continued. "Donate to your local food bank. Donate blood, if you are able."
The state is also asking hospitals outside of the metro Detroit area to keep 10% of their beds available to take in non-COVID-19 patients from southeast Michigan to help ease the strain on the system, as that has been the state's hardest-hit area.