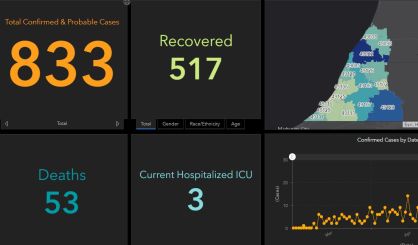 The Berrien County Health Department has launched a newer, more detailed version of its COVID-19 online dashboard. First released in April, the dashboard features up to date information on the latest COVID-19 cases in the county. It breaks down cases and deaths by various demographics and includes interactive maps regarding where in the county the illness has been detected. Now, Berrien County Health Department spokesperson Gillian Conrad tells WSJM News it includes even more.
"You can find new metrics, including the weekly average of percent positive COVID-19 tests, percentage point difference from the previous week to show that trend, as well as some trends for in-patient hospitalizations," Conrad said.
Conrad says there are a few numbers people should focus on.
"We're really looking for our public to start to view the data as far as trends, specifically week over week. We know that one day's worth of data does not make a trend, and should not be the only thing that we're looking at."
Conrad says the percentage of tests that come back positive is now about 5.5%. The dashboard does not show how or where the virus is being transmitted, nor does it show where individuals were exposed to the disease. You can find the dashboard right here.