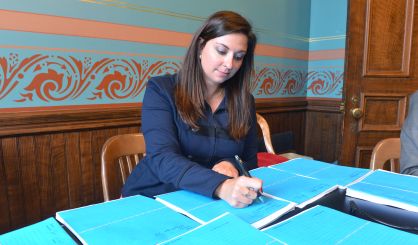 State Representative Pauline Wendzel's campaign is claiming victory in Tuesday's 79th state House District Republican primary. As of 10 p.m., Berrien County was reporting results from 28% of its precincts, and Wendzel had a lead over primary opponent Jacquie Gnodtke Blackwell of 3,884 to 764. The Wendzel campaign has released the following statement:
State Rep. Pauline Wendzel brushed aside a primary challenge from Jacquie Blackwell to once again secure the Republican nomination and advance to the November General Election. Rep. Wendzel had previously dominated a 5-way primary in 2018 and out-performed the top of the ticket in the previous November Election.
"I want to thank my family, my team, and the thousands of Berrien County residents who put their continued faith in me to serve our community," Rep. Wendzel said.  "This primary was a good warm-up for the general election.  I'll always be a strong voice for Southwest Michigan, I have the best supporters, and I won't be outworked."
In her first term serving Berrien County, Rep. Wendzel's most significant accomplishment has been delivering on a promise to successfully lower auto insurance rates.  Other accomplishments that are important to the people of Berrien County include:
•Leading our state and nation in bipartisan criminal justice reforms;
•Protecting our great lakes, precious natural resources, and the 1,800 jobs that depend on Southwest Michigan's sport fishing industry;

•Defending the integrity of our elections;

•Assisting Michigan's professional license holders by providing a credit on the renewal of their license;

•Opposing the dangerous and reckless policy of defunding local police departments;

•Protecting our most vulnerable residents from the governor's dangerous nursing home policy; and

•Respecting tax dollars and standing up for small businesses. Michiganders work hard for their money, and they deserve to know Lansing is investing in their priorities and helping them recover from the COVID pandemic.
"We're going to enjoy this victory tonight, but tomorrow I'm going right back to work doing the job I was elected to do."