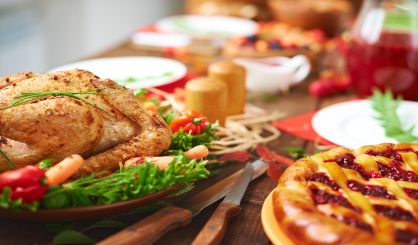 Health experts are reminding everyone that COVID isn't the only illness you have to guard against over Thanksgiving. USDA food safety specialist Meredith Carothers tells WSJM News food borne illnesses are a threat with all of the meal preparation going on. When cooking and serving, she advises following the two hour rule.
"It means that you should keep your foods out of the danger zone, and only have them in the danger zone, for only two hours," Carothers said. "The danger zone is the temperature range from 40 degrees Fahrenheit to 140 degrees Fahrenheit. So, most often, room temperature."
Carothers advises against thawing a turkey by leaving it at room temperature, saying the bird should be thawed in the fridge. As for leftovers…
"Leftovers should be used within about four days after they've been prepared. After that, they can be frozen and safely kept in the freezer forever because food borne illness and bacteria don't grow in the freezer."
Carothers says the turkey should not be washed prior to cooking. For a safety tip, if you're going to deep fry a turkey, food and fire safety experts warn to never do so indoors and to make sure it's thoroughly thawed first. The USDA's Meat and Poultry Hotline will be open for calls on Thanksgiving. The number is 1-888-MP-HOTLINE.