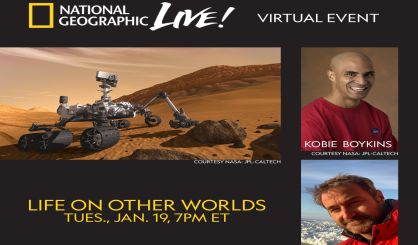 The Mendel Center at Lake Michigan College has announced a new partnership with National Geographic to host speaker presentations three times each year. Mendel Center Main Stage Director Grace Kelmer tells us first up in 2021 will be a virtual presentation by planetary scientist Kevin Peter Hand and engineer Kobie Boykins, both of NASA's Jet Propulsion Laboratory.
"They're going to be talking about the possibility of life on other planets, specifically Mars and some work that they're looking at on Europa, which is one of Jupiter's moons," Kelmer said.
The presentation will include a moderated Q&A so those watching at home can be involved. Kelmer says for the time being, the Mendel Center's National Geographic Live presentations will be virtual, but eventually, they'll welcome the guest speakers back in person. "National Geographic Live presents Life on Other Worlds" will be January 19 at 7 p.m. You can get tickets at TheMendelCenter.com.