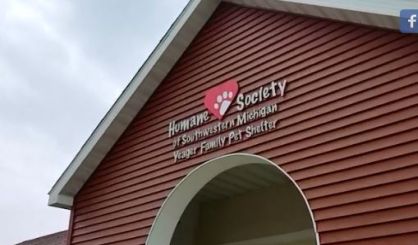 There's a new leadership team in place at the Humane Society of Southwestern Michigan, months after controversy erupted due to the resignation of the former director and several staff members. Humane Society Administrative Director Wendy Golob tells WSJM News by the time she started, board members had stabilized the organization and gotten a handle on operations. Now things are getting back to normal. We asked if they have enough volunteers.
"We are always looking for people who are willing to come in a socialize the cats, which literally means sitting down and playing with a cat for a half hour, for an hour, and basically just getting them comfortable with being around people," Golob said.
They're also getting training to the shelter's dogs so they're more adoptable. You can make appointments to visit the dogs, and can stop by the see the cats. Board member Juli Gast says it was a lot of work for the board to take over operations after little notice, but things look good.
"We are going and blowing, we are healthy, we have a great staff and a great board," Gast said. "It's an honor to be part of this organization."
Board Chair  Ron Klemm says he thinks the organization is stronger than he's ever seen it, and it's reaching out to the community.
"There's just a lot of things that have been happening because people want to get involved, and people still need to stay involved because we can't function without the community's support," Klemm said.
Plans are in the works to resume some fundraisers in the coming year, and Golob says the shelter always could use donations of dog and cat food. You can see their wish list at the Humane Society's website. Golob adds their goal is also to have a role in the community helping people take better care of their pets.