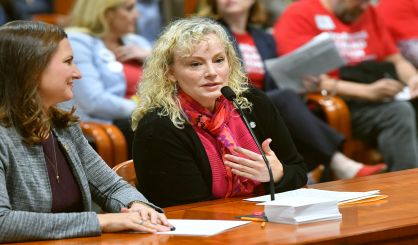 The Michigan Works Association has honored state Representative Beth Griffin of Mattawan as its 2021 Legislator of the Year. Kinexus Group Vice President Al Pscholka tells WSJM News Griffin was selected for the honor for her work promoting skilled trades, training, career-technical education, and the Michigan Works network.
"This award recognizes a representative who really takes to heart this whole notion of workforce development, talent development, and Beth was really a leader in restoring money for Jobs for Michigan's Graduates, for the Going Pro Training Fund, and she's been a strong voice for additional funding for career and technical training," Pscholka said.
Pscholka says the local Michigan Works office nominated Griffin for the statewide honor.
"It's a competitive award, so there were a lot of representatives who were in the mix. So we're proud that a representative from southwest Michigan is one of the leading advocates for workforce development and talent development."
Pscholka says he's glad a southwest Michigan lawmaker is the recipient of the award. He won it in 2014. Prior to being elected to the state House in 2016, Griffin served two terms as a Van Buren County Commissioner. She also chaired the Area Agency on Aging and served on boards for the Van Buren County Mental Health Court and the Van Buren County Drug Treatment Court.