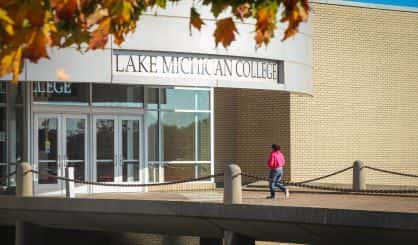 Lake Michigan College is marking its 75th anniversary this year. LMC President Trevor Kubatzke tells WSJM News the celebration kicked off this fall with a Drive-In Beach Bash in The Mendel Center parking lot and employee and student celebrations. Now, LMC is reaching out to the community.
"Our big piece is we're reaching out to all of our alumni, no matter when you graduated, and we want to hear your stories about LMC, what LMC did for you, and what you did with your LMC credentials. It's on our website an social media. We really want to tell the story that way."
Kubatzke says you can also take a walk down Memory Lane at the campus.
"If you're on our main campus in Benton Harbor walking in the front entrance, we've done a really neat photo gallery from the decades. So, any alumni that would like to come, reminisce, walk up that hallway, look at photos from your decade."
In the Fall of 1946, Benton Harbor Junior College opened its doors for the first time with evening classes held at Benton Harbor High School. In 1947, classes were extended to an old Quonset hut provided by The War Assets Administration, and a year later to the 1860s Central School on Pipestone Avenue. In 1948, Benton Harbor Junior College had its first graduating class. Kubatzke says it's changed quite dramatically over the years, and LMC has touched thousands of lives. They have a history page set up at LakeMichiganCollege.edu/75.