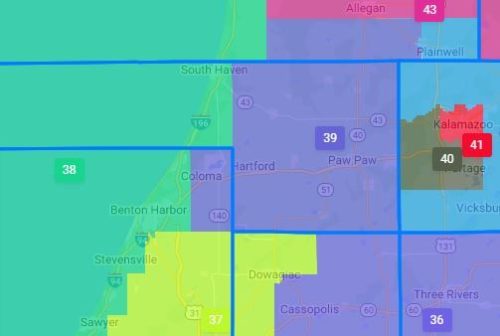 The primaries are over, and we now know who will be running for Michigan House in the 38th District. Democrat Joey Andrews and Republican Kevin Whiteford will face off in the November general election. Andrews tells WSJM News his priorities include increasing the availability of affordable housing.
"Especially with the short-term vacation rentals driving prices up all over the region, keeping local control of those and doing what we can to address that housing issue," Andrews said. "Bringing skilled trades programs back into the schools in the area is our second  highest priority."
Andrews says education in skilled trades will help promote a sustainable economy in southwest Michigan. He calls winning big in Berrien County a humbling experience.
Meanwhile, Kevin Whiteford tells us among his top priorities are helping seniors and reducing the income tax.
"Last year in 2021, if you look at the budget and you look at the numbers, you'll find that the state of Michigan raised almost $400 million in marijuana sales tax and internet sales tax," Whiteford said. "Why in the world would we not lower the income tax by $400 million?"
Whiteford says he's a Republican, but he's willing to listen to anyone. The 38th Michigan House district covers the Lake Michigan shoreline from New Buffalo all the way north to Saugatuck.
Looking at other southwest Michigan House districts, following this week's primaries Republican state Representative Pauline Wendzel will compete in November with Democrat Jared Plonowski in the 39th, while Republican state Representative Brad Paquette will face Democrat Naomi Ludman in the 37th District.