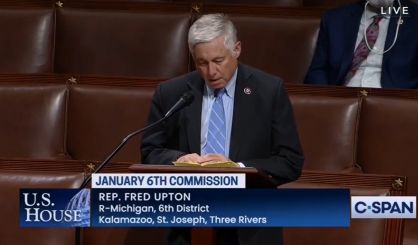 A grant of nearly $6 million is going to the city of Kalamazoo to help improve downtown transportation. Congressman Fred Upton tells WSJM News the Downtown Kalamazoo Transportation Network is getting $5.9 million for Kalamazoo Avenue through the federal infrastructure legislation.
"It's been a one way street for decades," Upton said. "They're going to make it two ways. They're going to look at really opening up the city. They've done a whole number of remarkable things. Between the Western Michigan University medical school that's there now, some of the new restaurants, the expansion of Western Michigan University, the real potential of an arena. This is a part of that planning that's going to make a lot of sense."
The planning grant will go to redesign transportation in downtown Kalamazoo, including converting Kalamazoo Avenue from a one-way street to a two-way street and making the area more walkable. Upton informed Kalamazoo Mayor Dave Anderson of the grant Monday.