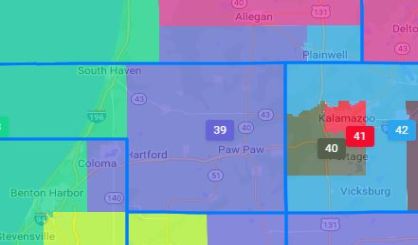 When voters in southwest Michigan's 39th Michigan House District head to the polls in November, they'll choose between Republican Pauline Wendzel and Democrat Jared Plonowski. We caught up with both to ask about the campaign. State Representative Pauline Wendzel tells WSJM News she's been touring the district and has found people are concerned about inflation and the economy. Serving in the House the past three years, she touts auto insurance reform as among the things she helped accomplish before COVID happened and much of her work shifted to helping people and businesses affected. Wendzel says she works to help solve the problems people in the district face.
"A lot of my bill ideas and things come from my constituents, just from talking to them, phone calls, being at the doors," Wendzel said. "One of those was autism legislation, helping access to that care all throughout our state. That came from the Logan Center here in southwest Michigan, so that was an accomplishment. I've also worked with out craft brewers."
Wendzel says she wants voters to know she's she's been fighting for southwest Michigan for three years and comes from a farming family.
Meanwhile, Jared Plonowski of Otsego tells us he chose to run because he noticed his ballot never had a candidate who spoke for him. He thinks the state hasn't been focusing on the biggest priorities. He tells us a big priority to him is expanding broadband internet access, which he didn't have, and still doesn't, despite COVID making it vital.
"Telephone is a utility, electric is a utility," Plonowski said. "In this day and age, everything runs on internet. I feel like it's a no brainer, and we're about 20 years past due in doing the right thing here."
Plonowski says he supports gun rights and wasn't the biggest fan of COVID lockdowns. If elected, he says he'll focus on things of benefit to the district, like education, infrastructure, wages, and healthcare.
Wendzel and Plonowski are seeking to be the state representative for the new 39th District, which covers the northeastern portion of Berrien County into Van Buren County and Allegan County.