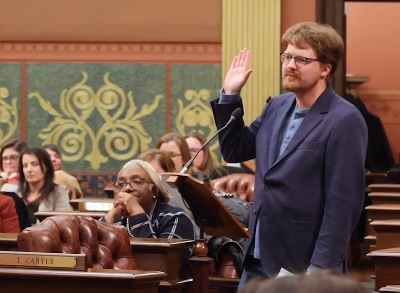 Governor Gretchen Whitmer called attention to state Representative Joey Andrews in her State of the State address Wednesday. That's because the day before, Andrews became a dad. He welcomed baby Violet into the world in the morning and then had to rush to Lansing for a vote. Whitmer noted that in her speech.
"Representative Andrews, I hope you are enjoying some well-deserved time with your newborn," Whitmer said. "Congratulations to you, and especially to Lora, who did all the heavy lifting on that one."
Andrews told us it was exciting to hear.
"It was really cool to have the governor acknowledge that," Andrews said. "It's not too many kids that in their first two days of life get a shoutout from the governor. So, it's a good start, makes for a good story for her someday."
Andrews said he had to run back to Lansing Tuesday night after his daughter's birth for an emergency vote due to partisan maneuvering on the other side of the aisle.  He wrote on social media, "It's the job I was elected to do."