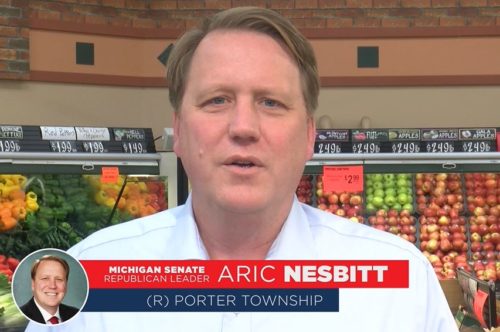 Southwest Michigan state lawmakers are reacting to Governor Gretchen Whitmer's State of the State address. Speaking for Republicans, state Senator Aric Nesbitt released a video filmed at a grocery store, saying Whitmer's priorities are in the wrong place.
"This is where our focus needs to be right now because too many Michiganders are struggling to afford everyday necessities," Nesbitt said. "By now, you know the numbers because you see them every time you visit the grocery store."
Nesbitt said Whitmer has vetoed bills that would have given Michigan families a break on taxes multiple times. He's calling for immediate tax relief. Meanwhile, Democratic state Representative Joey Andrew tells us he thinks Whitmer has the right focus.
"I just loved the governor's focus on helping ordinary people, from pre-K and early childhood education to college funding and prioritizing tax breaks for seniors and working families while restoring collective bargaining rights."
Andrews said he thinks Democrats in the Legislature will be united. He tells us the things Whitmer talked about are what the citizens voted for.