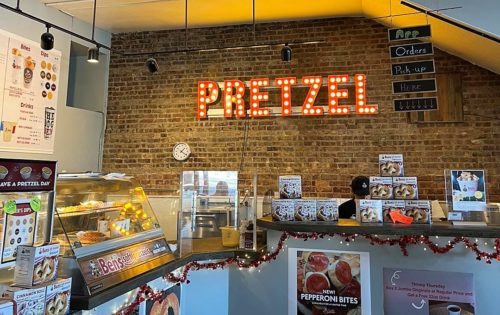 Since opening in the Benton Harbor Arts District in Oct. 2021, Ben's Soft Pretzels has been a welcome addition to the community.
Now, the store has been recognized as the top Ben's Soft Pretzels franchise of the more than 155 locations across the United States. Store co-owner Julie Weckel made the announcement on Facebook last week.
"Honestly, I was completely shocked," Weckel said Wednesday. "There are some amazing franchisee owners in the Ben's family, and it could have gone to any number of people, so I was shocked – but very honored and pleased."
According to Weckel, who purchased the former Charlie's Piggin' N' Grinnin' location with husband Pat, said the company singled them out for multiple aspects their store does well.
"One of the things they mentioned was our communication with corporate," Weckel said. "Challenging and questioning things, but doing so in a respectful and professional way. They also talked about our positive attitude and approach to running the store and also the success we've had."
Weckel attributes much of the success to the community.
"We are so incredibly fortunate … we just love our customers" she said. "Everyone's just so appreciative of us being down in the arts district. I think we are an option that wasn't available before – something that's affordable. We have the best pretzels in the world, I'm convinced of that. We're quick and we're easy, but very filling and delicious."
Being in the Arts District is also something Weckel said has been a benefit.
"It's a really unique little area, and its becoming quite diversified with the artists and the shops and the restaurants that are in the area," she said. "Everyone's been very welcoming and opening open to us being there. The dispensaries are great neighbors. Whether someone who's working at the dispensary is coming over and and grabbing a bite at our place or whether its their customers coming over to get something for themselves, it's just a welcoming and warm environment, and it's nice little community to belong to."