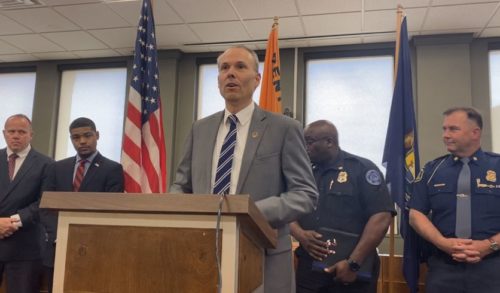 US Attorney for the Western District of Michigan Mark Totten is launching Safe Summer 2023 in several cities in the state, starting with Benton Harbor.
"Under this program, my office will prosecute all offenders who illegally possess crime guns – that is, guns or firearms that are linked to prior crimes through ballistic evidence."
Totten says they are working with Benton Harbor Public Safety, the Benton Township Police Department, Berrien County Sheriff's Office, Michigan State Police, and the FBI to investigate violent crime.
"Guns that have been used in crimes and the people who carry those guns pose an increased threat to the community," Totten adds.
Totten says this program is all hands on deck and will run through the end of September. Benton Township Police Department's Mike DenDooven says most of the gun crimes in the township and in Benton Harbor over the last several years are the result of two groups, and says many members of those have been prosecuted. Benton Harbor Public Safety Director Dan McGinnis adds they are getting more cooperation than in the past from the community.