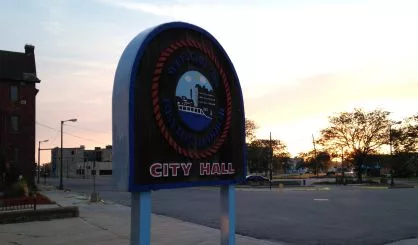 Project T, a commercial and residential development planned at the site of the former Mercy Hospital in Benton Harbor, has moved another step forward.
The project is a partnership between Harbor Habitat and Renovare Development out of Detroit. It's set to include 30 homes and a four-story residential and commercial building, among other things.
At a meeting this past week, the Benton Harbor Planning Commission approved the site plan, sending it on to the full city commission. There are a few details to be ironed out, said Renovare's Shannon Morgan.
"Certainly, we're still working through the final engineering items as we move through the site plan," Morgan said. "We appreciate everyone's help who has attended our weekly meetings. As everyone knows, we have worked to make modifications to this site plan to meet all of the initiatives."
One issue is a rebuild of Weld Street, which is currently concrete, but will be rebuilt from asphalt when the project is finished. Commissioner Juanita Henry had an issue with that, saying concrete is better quality. But Morgan said with costs so high, Project T may not be able to afford a concrete rebuild. Assistant City Manager Alex Little said city engineering staff have approved the asphalt rebuild concept.
There's no timetable for construction yet, but developers say the goal is to get to work on 19 duplexes within 18 months.